News
Nobody Joined Us So We Died
11 december 2008
5 Years
4 Keyboard Players
3 Tour Relate Injuries
2 Transit Vans
1 Decent Album
Like a pet that you love dearly but have kept alive maybe a little longer than was decently humane it's time to put this poor little doggy to sleep. Yes folks, on Friday January 23rd 2009 the NME vet will be putting down stuffy/the fuses at The Windmill in Brixton but not before the little bugger has one last attempt at gnawing your arm off with a "best of set" of songs.
If your IQ is so minimal you were unable to read between the lines, it is with more than a modicum of regret that the band have decided to call it a day. We had a go, probably didn't try quite as hard as we should have but we had a great deal of fun doing what we did (bar meeting The Paddingtons (an even then their drummer was a true gent). Some of you may be a little upset to hear this news but I'm sure that all involved at s/tf HQ will be perusing other musical projects. So don't think of it as loosing a band, think of it as gaining 3-5 self indulgent solo projects.
Best of all, if you've been putting off coming to see the band play for the past 5 years (I mean, how full is your fucking diary, lightweight?) then this really is your last chance to see stuffy/the fuses. Honest, it's not one of those "cry for attention" splittings up (I'm looking at you "The" Verve).
Here are the details:
Friday January 23rd 2009
The Windmill Present
stuffy/the fuses last show on earth
+ guests TBC
The Windmill
22 Blenheim Gardens
London
SW2 5BZ
Doors 8pm
Nearest Tube: Brixton (Victoria Line)
Price: £TBC Tickets Available from http://www.wegottickets.com
The next stuffy/the fuses show will be on 23rd January 2018 when the band agree to reform (including longtime hold out Jon Fuse) for a one off gig at the Brixton Academy due to overwhelming financial offers as a result of being hailed as the main influence behind of one of the following bands.
Playtime Fontaine
The Birmingham School of Business School
Victor/Victoria
Oh no, I Crapped My Pants
Croydon Dangerous
See if you can guess which one and win the entire s/tf back catalogue on the format of the day. Competition entries submitted to evelknievel@stuffyandthefuses.co.uk to arrive by January 2nd 2018.
thieving hobos
9 October 2008
stuffy/the fuses mildly announce their new official home on the web, stuffyandthefuses.co.uk, after the old domain was hijacked by the russian/hong cong/weatherby mafia.
3 Blind Mice
stuffy/the fuses will be playing two shows over the coming months. These shall be as a 3 piece band. No explanation will be given for this at the present time as none offered so far seem even mildly satisfactory.
What we can tell you is that the first show will be a festival and the second will involve stuffy/the fuses pretending to be The Pixies for 1/3rd of the set.
June 28th - Pearfest, Epping Green, Nr. Harlow on stage 8:15pm
Aug 3rd - The Windmill, Brixton, South London
Hastily Announced February Tour
28 January 2008
stuffy/the fuses have just been confirmed as the tour support for Italian Sub Pop band Jennifer Gentle. Check press for detail, ticket prices and local information. If you London types can't wait until the 13th then don't forget to check out the Fuses "warming up" for the coming endurance on February 2nd at The Windmill Brixton.
Oscars cancelled - a nation moans
24 January 2008
stuffy/the fuses have been nominated for single of the year by the good people at Scottish fanzine is this music.
It's only a click away so get your voting gloves on and show us some love. Well, GO ON!
Celebrate your considered vote with a pop concert at The Windmill in Brixton next Friday.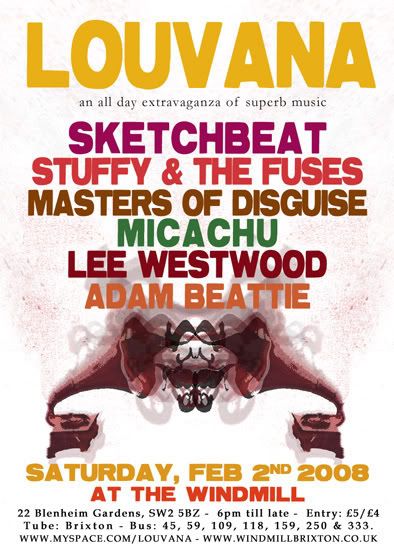 Go cat go!
::stuffy/the fuses::
New Double A Side Single out today
3 December 2007
Seasonal stuffy/the fuses action this year comes in the form of the cracking double A single released today.
If you'd like a piece of the action, follow this:
http://www.thisisfakediyrecords.co.uk/shop/index.php?cmd=products&prod_id=5
Alternatively, check out the List of Stockists.
in dulci biggalo
27 November 2007
stuffy/the fuses play their end of year annual Christmas show, again at the Half Moon Herne Hill, on Friday December 14th.
Fuses are on first so they can get lashed, DJ some ropey tunes and watch the other two fab bands Wet Paint and (stuffy's favourite) Kong.
Make sure you get your tickets in advance and help keep out the Christmas rabble by going to wegottickets.com
Advanced Tickets: http://www.wegottickets.com/event/24087
Here follows the full HP:
CLUB MOONCAT: KONG, WET PAINT, STUFFY / THE FUSES
The Half Moon 10 Half Moon Lane Herne Hill London SE24 9HU
FRI 14TH DEC, 2007 7:30pm
Extra special Xmas party at Club MoonCat, with headliners all the way from Manchester.
KONG are 'the future of heavy music and the future looks bright, even if it hurts somewhat'. If you're named after a super-size fictional gorilla you'd better sound pretty f**king massive, and this trio certainly do. Fresh from supporting Future of the Left, no less.
More than capable in support we have WET PAINT, a side project of members of Absentee, and the fabulous STUFFY / THE FUSES.
DJs shall then take the helm until the wee hours, playing alt / indie / wrong pop and whatever else they can find.
£4 advance / concessions , £5 on the door if you would please..
Advanced Tickets: http://www.wegottickets.com/event/24087
Each night DJs between and after bands till 1am The ultimate mixtape of 70s, 80s, 90s, 00s pop/indie/alternative: Go Team, Rage Against The Machine, Future of the left, Supergrass, Blur, The Pixies, Brakes, Audio Bullys, Shellac, The Dickies, Klaxons, death From Above 1979, The Hives, Kaito, Electric Soft Parade, Deerhoof, McLusky, Gallows, Cardiacs, We Start Fires, The Fall, Clor, Madness, iForward Russia!, Faust, Beastie Boys, The Ramones, The White Stripes, The Who, Montana Pete, Arctic Monkeys, Foo Fighters, Beck, Kaisers, Nirvana, Led Zepplin, The Pigeon Detectives, The Breeders, Kaiser Chiefs, Devo, Billy Childish, The Jam, Pulp, Queens of The Stoneage, The Good The Bad & The Queen, The Flaming Lips, They Might Be Giants, Maximo Park, the pixies, Slint, Bob hund, Rapeman, Fonda 500, Magoo, Quasi, Arcwelder, Capt. Beefheart, Polvo, Prince, Zeni Geva, Clinic, Super Furry Animals, Sparks, Madness, The Scaramanga Six, Deelight, Gorillaz, Dinosaur Jnr, Kings Of Leon, PJ Harvey, Sonic Youth, etc, etc...
Boris, Mikhail & Freddy
22 November 2007
In the spirit of Glastnost stuffy/the fuses have made available three tracks for download via the mp3.
If you have not yet bought the album, Angels Are Ace and fancy a slice , then go here...
http://myspace.com/stuffythefuses
...and grab some musicake for your mpod player. That's right, you can now own a little bit of us for free, imagine that?
If that's not enough for you then please visit our shop and buy from us online.
Alternatively download from these trusted sites:
iTunes: http://phobos.apple.com/WebObjects/MZStore.woa/wa/viewAlbum?id=257908866&s=143444
emusic: http://www.emusic.com/album/Stuffy-and-the-Fuses-Angels-Are-Ace-MP3-Download/11049952.html
roger taylor and Richard kiel
1 November 2007
The next stuffy/the fuses single taken from the recent album Angels Are Ace will be a double A side featuring Metal Queen & Sir Wants Sex. It shall be made available on 7" on Fake DIY records. More details to follow soon.
s/tf also take some time out from recording their next album (that's right you heard it here first) to play a show for London types. Here come the details.
Saturday 10th November supporting Winners (ex-Do Me Bad Things) & The Sandals of Majesty Guided Missile Club, The Buffallo Bar, Highbury, London.
Nearest Tube Highbury & Islington (Victoria Line) £5
Underground Blue Performance Centred Leadership
19 October 2007
As a reminder to all of you M5 fans out there, stuffy/the fuses play the Cavern in Exeter with the wonderful iForward Russia! this coming Thursday (25 October).
Links:
WANTED: you
19 September 2007
Who: if you are a late teen to an early twenties we need you to appear as an extra in a pop video for stuffy/the fuses new single which is coming out on the Fake DIY label in November.
What: Bring yourself and preferably your boy or girl friend. Weather pemitting you will be shot around the beautiful surroundings of Brockwell park in Herne Hill, London, getting down to the sounds of stuffy/the fuses. All you crazy rock kids will then be shot walking around the park, maybe holding hands or if you are brave enough having a wee kiss and/or a cuddle.
Wear: Brightly coloured clothes, greens, blues, reds, yellows, pinks everycolour of the rainbow. Whatever makes you feel sexy.
When: SATURDAY 22ND SEPTEMBER 9AM - gosh, it is an early one but we should be all finished by mid day early afternoon.
If the weather is good:
Brockwell Park (Dulwich Road Entrance)
Herne Hill
London SE24 0BH
Nearest Train: Herne Hill (1 min from station)
Map: http://www.streetmap.co.uk/streetmap.dll?G2M?X=532040&Y=174170&A=Y&Z=3
If the weather is BAAAAD:
The Shakespeare Business Center
245a Coldharbour Lane
Brixton
London SW9 8RR
Nearest Train: Loughborough Junction (2mins walk) Nearest Tube: Brixton (Victoria Line)
Map: http://www.streetmap.co.uk/streetmap.dll?G2M?X=531875&Y=175713&A=Y&Z=1
Let us know if you are coming by mailing hospital@stuffyandthefuses.net or sending a message via http://myspace.com/stuffythefuses so we can work out numbers & leave a contact number just incase things go belly up.
Incentive: there will be a present given to you by our record label to be revealed when they let us know what it is.
I am the monarch of the sea
28 august 2007
stuffy/the fuses support recent Club Fandango offshoot label, Cool For Cats, signings Fight Like Apes. Excellent news!
Thu 20th Windmill Brixton presents:
*Stuffy & The Fuses
*Fight Like Apes
*tbc
*tbc
STUFFY & THE FUSES (London)
Stuffy is a dummer. He's a good drummmer. That's probably why he sits at the front, which is also a goood place to see his bizarre facial expressions and gravity defying leaps as well as an anti-hero charm and some nifty manoeuvres with the sticks. Meanwhile the Fuses (Jen, Jon and Lucy) knock out some superb twisted pop as evidenced on their fine new album - 'Angels Are Ace - which was recorded at Abbey Road by a certain Steve Albini. www.myspace.com/stuffythefuses
FIGHT LIKE APES (Dublin)
One of the buzz bands in Ireland right now, female-fronted noisekids FLA return to London to blag up their debut single that's out on on Fierce Panda's little sister label, Cool For Cats. Ostensibly a new wave punk band, they however give a nod or two toward the likes of Sonic Youth, Pavement and My Bloody Valentine and then often steep the whole damn thing in synths and hot fuzz. In other words they're impossible to pin down and also very much ones to watch. www.myspace.com/fightlikeapesmusic -
The Windmill
22 Blenheim Gardens
Brixton, SW2 5BZ
Tel: 020 8671 0700
Opening Hours : Doors 8pm...
a little bit of heathen
2 August 2007
Photo's and a video of stuffy/the fuses' recent trip up north to appear on Mark Riley's Brain Surgery are now available [BANG].
London, schmondon
23 July 2007
stuffy/the fuses today announce a monsoon-inspired upcoming gig in that London on Monday 30 July.
Here be details:
The End of the Road Residency
featuring: Congregation, The Telegrams & stuffy/the fuses
5 Little Portland Street, London
Nearest Tube Oxford Circus
http://thesocial.com
http://www.wegottickets.com/
Date: Monday 30th July
Doors: 7pm-12am
Cost: £5
The End of the Road team is back for their monthly knees up with live bands and DJs to keep the spirit of the festival going until September... book your tickets for the festival early to avoid disappointment. This month we're very excited about hosting the brilliant CONGREGATION, hailing from the New Cross bedsit scene looking like a couple of gangsters from the depression era, Congregation have lately been injecting the Blues and R&B genre with a heavy dose of class and soul. Benjamin Prosser (Slide Guitar, Bass drum) and Victoria Yeulet (vocals, leg bells) play the kind of raw, slinky and seductive blues that have the power to restore one's faith in the genre. Also playing are TELEGRAMS, most probably one of the best unheard of bands you'll ever see!!? Remember you saw them here first... + just confirmed STUFFY/THE FUSES. Doors open at 7pm and it's only £5 to join the party!
Angels Are Ace - released today
2 July 2007
stuffy/the fuses are proud to announce the release of their second long player, Angels Are Ace, today.
Amongst the usual retailers, you can also pop along to the shop to buy this in a variety of formats, including shiny 12 LP with free download voucher.
A download version, and facility to pay in exotic currencies (like Dollars and Euros) will be available shortly
Huzah!
Never pay a a wheel clamping fine again
16 June 2007
As the fuses warm up for tonight's gig in Leeds, perturbing news has arrived via the electric ticker tape.
Due to circumstances outside the band's control, the upcoming Stafford gig has been cancelled.
Stuffy is disappointed at not being able to play "the gem of the M6" this time around, but hopes to return real soon.
Please contact the venue in case of any ticket queries.
Diary of the Fittest
15 June 2007
To find out how the stuffy/the fuses tour is progressing visit our forum, or the link on the right hand side, where the band are posting a tour diary.
If you are in attendance at any of the shows, feel free to add your own comments. Mind you, if they are critical I will have to remove them toute suite. Sensitive boys & girls they are, sensitive.
Wanna be in my gang?
15 June 2007
So you got a myspace page, yeah?
You want to be stuffy/the fuses top friend?
Well it's about time we had a revamp of the ol' top friends list. So if you want to help get the word out to the masses, help get stuffy/the fuses appeal thrown worldwide and have your visage melded to the front page this is what you have to do.
Go to our profile and click "add" upon your favourite stuffy/the fuses tune
Send us a message saying "I've added you, shower me in the glory."
Sit back with a cool beverage and await your glory.
This is done on a strictly first come, first served basis and the top friends may be 4, it may be 24. It depends on how the webmonkey feels.
The webmonkey cannot be bribed or tampered with and his decision is final.
Good times!
Fold your hands stuffy, you look like a fuse
6 June 2007
To celebrate the great weather, extra bonus dates have been announced for the forthcoming tour:
18th June - The Portland Arms, Cambrdge with Vile Bodies
28th June - Green Rooms, Welwyn Garden City
Also, it seems that tracks from angels are ace are making a bit of a stir on the wireless, with the following recent radio plays being spotted by our owl-eared fuses:
23 May - Huw Stephens played Spineless
23 May - Mark Lamarr (standing in for Jonathan Ross) played Ahhhh Song on Radio 2
1 June - Marc Riley played Ahhhh Song on 6music
You can usually listen again via the bbc website, just in case you didnt catch it first time 'round.
News just in: All agree "Angels Are Ace"
20 May 2007
stuffy/the fuses are pleased to announce the release of their 2nd full length album "Angels Are Ace" on Monday July the 2nd. This will be preceded by a download only single "Ahhhh Song" on June 25th.
The album will be available on CD, Vinyl and will also be available for download. Purchasers of the vinyl will also be given a voucher that will allow them to download the album for free – how's that for cake ownership twixt with devouring said baked goods?
CDs & Vinyl will be available through all good record stores and from this very website. Downloads will be available from both this website and through various digital distributors like I-tunes and their ilk. Here come the details....
Title: Ahhhh Song b/w Cardboard Song
Release Date: 25/6/07
Label: Sour Puss
Cat. No: SOUR01
Distributor: Cargo
Title: Angels Are Ace
Release Date: 02/07/07
Label: Sour Puss
Cat No: SOUR02
Distributor: Cargo
To buy any of these titles or any other merchandise from us please click the shop tab. All transactions are through Paypal who accept all major credit cards and some minor debit cards too.
News Archive now active
Older news has been moved to the News Archive.